Little Dragon – Tickets – College Street Music Hall – New Haven, CT – April 21st, 2020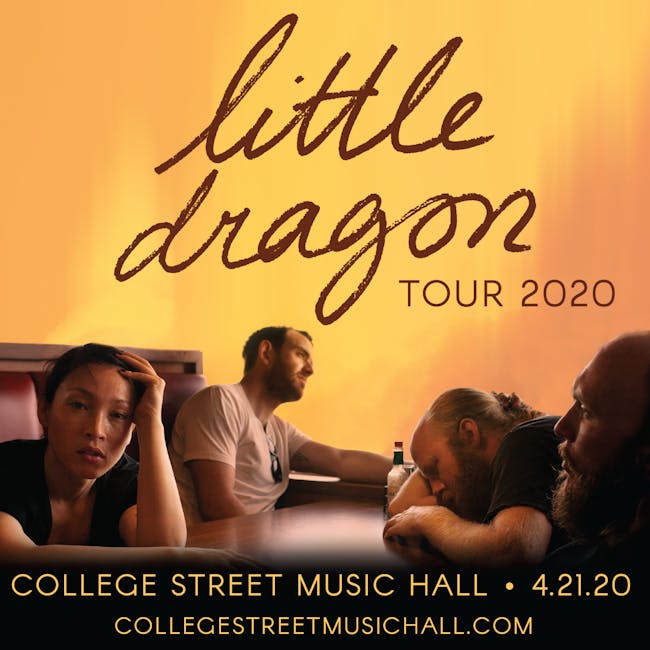 Premier Concerts and Manic Presents:
Little Dragon
April + Vista, sir Was
This event is General Admission Standing Room on the Floor. There will be limited first-come, first-served seating available in the back of
LITTLE DRAGON
Grammy-nominated Little Dragon have announced their long-awaited new album Season High, out now digitally on Loma Vista Records (CD + LP in stores May 5th). This is the first new music from the electro-pop band since they released their acclaimed 2014 album, Nabuma Rubberband. Season High was produced by Little Dragon, with co-production and mixing by James Ford, in their hometown of Gothenburg, Sweden.
Discussing the process behind recording Season High, Yukimi muses, "We have grown through the years but the making of this album has been a struggle. As much as our band is based on a deep friendship we are four strong wills who find it really frustrating to compromise. We have gotten better at that though, but it's still a real battle. It gets harder and harder for us to make records but we still love it. Sometimes it feels like we have 100% passion and life or death emotions yet there's a pointlessness with everything. We want to exist in our own bubble where we can stay curious about sounds. The magic feeling that sounds can sprinkle over any boring day is what got us all hooked. That feeling of escapism …maybe because Gothenburg is a grey place for most of the year, our curse and blessing is that we never quite succeed."
Links: Official Website | Facebook | Instagram | Twitter | Spotify
APRIL + VISTA
DC-based duo April + VISTA are the odd ones out, toting a sound that whisks listeners into a world of their own. April George (violinist, pianist, vocalist, composer) and mattVISTA (producer, bassist, composer) pull from a wildly eclectic range of influences, fusing lush soundscapes and string arrangements with rich textures and mesmeric storytelling. Their latest EP, You Are Here, was released in 2018 and yielded two juxtaposing singles–the powerful anthem "Own2" and the intimate "How to Get By". The duo's dynamic live act has taken them around the world as they've toured with heavy-hitters like Little Simz, Little Dragon, and GoldLink. In October 2019, they delivered their newest single, Every Void, which trades their usual meditative sounds for jagged ends and dark subject matter.
Links: Official Website | Facebook | Instagram | Twitter
SIR WAS
sir Was is the musical journey of Joel Wästberg, documenting a wealth of unique & idiosyncratic influences. Growing up in the tiny village of Frillesås on the western coast of Sweden, he had an early career as a jazz saxophonist that led to studying in Gothenburg (where he lives now) and an influential time at the University of Kwasulu-Natal in Durban, South Africa. From there he started focusing more on drums, and immersed himself in discovering pan-African rhythms & sounds, traveling through Mozambique and Zimbabwe, finding musical inspiration all along the way. The resulting range of styles is as uncommon and refreshing as the story might suggest. It is intricate without feeling complex, with driving beats and dynamically varied instrumentation weaving throughout.
sir Was' first offering is a relatively gentle introduction. 'A Minor Life' sets the scene with colorful flourishes of bagpipes & recorder sailing around a core of syncopated modular synths. Nestled underneath is a swinging live beat so clear and sharp, it could be mistaken for a J Dilla sample.
Demonstrating a seemingly effortless marriage of organic instrumentation, synthetic sounds and head-bobbing beats, he shows himself as a master of balance. Perfectly weighted songs merge graceful melody and deep beats with his unique production style. The end result is beautifully emotive, atmospheric tracks eschewing genre classification.
Simply put, whilst some artists strive to push boundaries, sir Was seems blissfully unaware of them in the first place.
Links: Official Website | Facebook | Instagram | Twitter | Spotify

Little Dragon are a Swedish electronic music band from Gothenburg, formed in 1996. The band consists of Yukimi Nagano (vocals, percussion), Erik Bodin (drums), Fredrik Källgren Wallin (bass) and Håkan Wirenstrand (keyboards). Little Dragon's first release was the double A-side seven-inch vinyl single "Twice"/"Test", released on the Off the Wall label in 2006. The following year, the band signed with the larger British independent label Peacefrog Records and released their eponymous debut album in August 2007. Their second album, Machine Dreams, was released in August 2009, and gathered favourable reviews.


Little Dragon's fourth studio album, Nabuma Rubberband, was released on 12 May 2014 in the United Kingdom via Because Music and on 13 May in the United States via Loma Vista Recordings. The album was inspired by Janet Jackson's slow jams. "Klapp Klapp" was released as the album's lead single. The second single, "Paris", debuted on Zane Lowe's BBC Radio 1 programme on 8 April 2014. Nabuma Rubberband received a nomination for Best Dance/Electronic Album at the 57th Annual Grammy Awards.

The band's fifth studio album, Season High, was released on 14 April 2017 by Loma Vista Recordings. It has spawned the singles "High" and "Sweet"

April George (singer, songwriter, pianist, violinist) and mattVISTA (producer, engineer, bassist) make up the genre-bending duo April + VISTA. Hailing from the DMV, they pull from an eclectic range of influences–fusing traditional elements with futuristic soundscapes, quirky beats, and immersive storytelling.

Their latest EP, Note to Self, debuted to much acclaim in 2016, landing on Pitchfork Radio and NPR's Capital Soundtrack project. Their music has also garnered nods from a wide range of collectives and publications including Soulection, Saint Heron, Majestic Casual, and AFROPUNK.

The band has taken their dynamic live act to a wide range of venues around the country; they've opened for notable acts like Khalid and recently joined fellow DMV artist GoldLink on his North American At What Cost tour, alongside Masego.


Venue Information:
College Street Music Hall
238 College Street
New Haven, CT, 06510